Comedy Shows at Bass Lake always receive great comments and attendance. We are happy to be able to provide this affordable and fun event for out Resort guests as well as local community.
Next Comedy Show at Bass Lake will be held on Friday, March 31st, 2017. The show will take place in the Conference Center (Lakeview Room) and will start at 8pm (door opens at 7am). Please allow for up to 2 hours for the entire show and we recommend that only mature audiences (18+) attend as the explicit content may not be suitable for some viewers. Just like with other shows, full bar will be open and dinner will be available for purchase.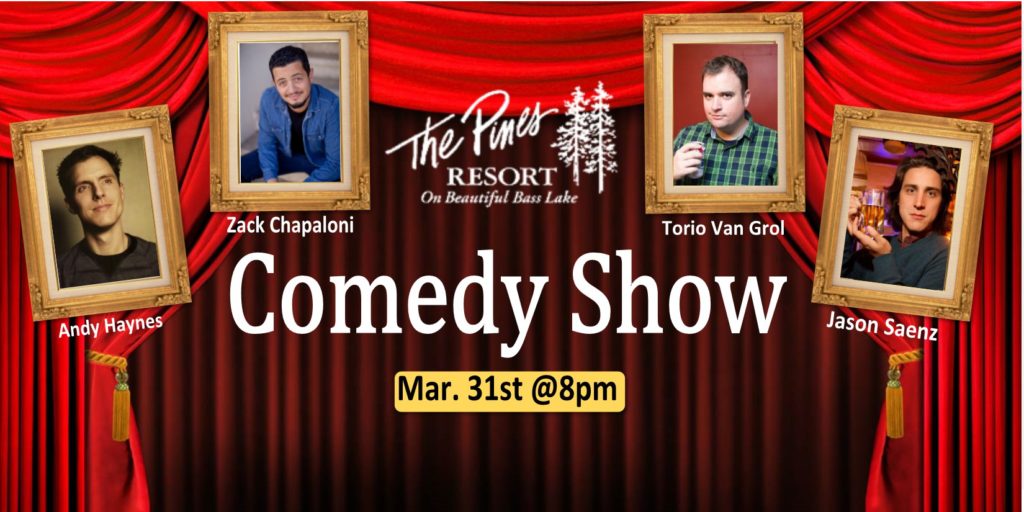 ---
Meet Our Comedians:
Andy Haynes
Andy is a Los Angeles-based writer and a comedian who has been seen on Conan and Late Night with Jimmy Fallon. He has also performed at the Just for Laughs Comedy Festival in Montreal, Bumbershoot in Seattle and the Bridgetown Comedy Festival in Portland, Oregon. Andy's Comedy Central Half Hour Special debuted in 2013 and can be seen on comedycentral.com. (www.imandhaynes.com)
Jason Saenz
The NY Post calls Jason Saenz "the new poster boy for Brooklyn comedy". He was a New Face at the Just For Laughs Festival in Montreal. Jason also made his TV debut on AXS TV's "Gotham Comedy Live", "Friends of The People", "Hack My Life" & "Adam Ruins Everything" on truTV and as "Hoot The Owl" on Comedy Central's Half Hour.
Jason has written for Comedy Central's Night of Too Many Stars as well as projects on Comedy Central, Fox, MTV, IFC, MTV.com, IGN.com, Funny or Die, Above Average, Roof Top Comedy, Time Out New York, HuffPo, Jest.com and College Humor. Currently he works as a producer on MTV's Ridiculousness.
Zack Chapaloni
Zack Chapaloni was a semi-finalist in the TBS National College Comedy Competition, the San Diego Comedy Competition and runner-up in the Central Valley Comedy Competition. Consequently, he has established himself as a prominent comedian in the Bay Area by using his charming wit to deliver original stories with animated reactions and unexpected punchlines. He has performed at SF Sketchfest, and can be seen regularly at San Francisco's Punchline and Cobb's Comedy Club.
Zack co-wrote and starred as "Todd Olsen" in the Metacafe series "PausePlay", and was recently on Season 2 of MTV's Greatest Party Story Ever. He has worked with prominent comedians and writers, such as Chris Hardwick, Baron Vaughn, Greg Behrendt and Mark Normand.
Torio van Grol
Torio performs regularly at two of San Francisco's premier comedy showcases, therefore  you can see him every Wednesday at The Tabernacle and at The Mission Position on Thursdays.  In 2016, he was listed as one of the Bay Area's best stand-up comedians by SFist.  In addition, he won the title, "Best Joke of 2015" by the award-winning SF blog Courting Comedy.
Torio has performed at SF Sketchfest for the past two years. He also attended many other comedy festivals, including the 10,000 Laughs Festival, Santa Cruz Fringe Festival and more.
---