.If you've ever stayed at Bass Lake, you probably know what the area has to offer. In addition to picturesque sights, a convenient location, and the relaxing ambiance, there is also an array of activities for everyone. From water sports, boating, fishing, and hiking available on-site, within a short drive, guests can also enjoy whitewater rafting, log train rides, wineries, zip lining, and more.
We all wish our vacation lasted forever, but realize all good things have to come to an end. Here is our list of the top 4 local activities that we think you and your family should experience this summer!
---
The Pines Resort offers a variety of amenities and services for its guests to enjoy during their stay. Most guests enjoy our outdoor, lake-front swimming pool (heated from mid-May until mid-September) and Jacuzzi. Those seeking a more active vacation use our tennis courts or lakefront workout room. Little ones have a great time playing and meeting new friends at the playground. There is plenty to do at the Resort to keep you entertained, but if you wish to try some of the local activities, here are our recommendations.
4 local activities you can't pass this Summer:
Bass Lake Water Sports
What better way to spend your time at the lake than to enjoy the water to the fullest! Bass Lake Water Sports, privately owned and located within walking distance from your room, has anything that you need. They have everything from pontoon boats and ski boats to paddle boards, pedal boats, and jet skis. You can browse their selection on their website. Reserve your boat in advance, and, upon pick up, they will provide you with a quick training and explain lake policies.
If you are not comfortable operating a water craft by yourself, you can inquire about guided tours on Bass Lake Queen. These tours typically take place on Saturdays in the summer time and leave the Marina at 11 a.m. It is definitely a must-do on our list! All aboard will enjoy a narrated tour, pointing out our favorite spots on the lake learning about Bass Lake's history. If you are lucky, you may also spot a bald eagle or two. Get your cameras ready and make sure your batteries are charged! Contact Bass Lake Water Sports to reserve your spot.
Contact: (559) 642-3200
Sierra Jeep Tours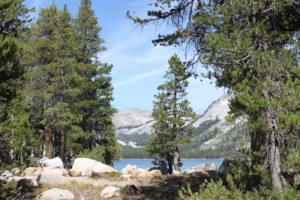 Sierra Jeep & ATV Tours will let you explore the backcountry and discover hidden treasures of Sierra National Forest, like alpine lakes, granite rocks, or picturesque mountain lookouts. They are located in the Fish Camp, about 15 miles North from the Resort, and offer private Jeep and ATV tours year round (also in rain and snow).  They offer a selection of tours. Depending on the size of your group and the time that you want to allocate for this activity, you can pick your destination and transportation.
Contact: (559) 479-5915
Sugar Pine Railroad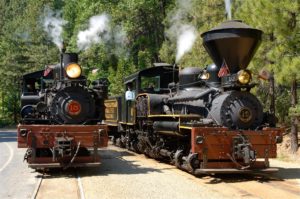 Sugar Pine Railroad is one of many visitors' favorite attractions in the area. A historic railroad with two operating steam locomotives is located in Fish Camp. It offers a four-mile excursion through Sierra Mountains. Due to the high popularity of this attraction, online reservations are recommended. You can participate in one of the scheduled rides on the logger steam train or take part in the special Moonlight Special with BBQ, campfire, and entertainment. Rides are available from April through October, depending on the weather.
Contact: (559) 683-4636
Photo source: https://www.facebook.com/YMSPRR
Whitewater Rafting
Zephyr Whitewater Expeditions is a must-do for those looking for an adventure and adrenaline rush. The largest whitewater rafting company in the Yosemite area offers half-day trips and even three day expeditions on the Tuolomne, Kings, and Merced rivers. Their trips are good for almost everyone, starting at age 7, or 12 for more advanced rivers. Zephyr will provide you with an experienced guide, food, waterproof bags, jackets, helmets, and everything you may need on your adventure. They also offer discounts for groups or multi-day family trips, as well as team building activities.
Contact: (800) 431-3636
Photo source: http://yosemitethisyear.com/
---