Yosemite and the Bass Lake area is brimming with opportunities for exploring the outdoors!
Take a hike on one of the dozens of trails in and around the park. Rent kayaks and explore Bass Lake at a leisurely pace. Or, rent a power boat and enjoy some faster-paced water sports.
No matter which activities you choose to do during your trip it's important to be safe while you're having fun. Before you head out on your next adventure, check out these tips for ensuring your safety while enjoying the outdoors.
Always Pack Water
Whether you planning for a full day of hiking or just a short nature walk, always pack water. Even in colder temperatures, dehydration is a concern. You should aim to drink one quart of water every two hours. If you're taking on some of Yosemite's more strenuous hikes, you may want to plan to drink more.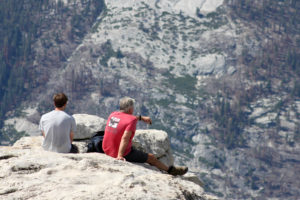 Never Explore Alone
Hiking, water sports, camping, and other outdoor activities are always more fun with a friend or two. They're also a lot safer that way.
Going on on your own is a big risk. Cell phone service isn't always reliable, especially in the park. So if you get into trouble and you're on your own, you'll have no way to call for help.
Know the Wildlife
Yosemite and the Bass Lake area is home to more than 90 species of mammals, 12 species of amphibians, 22 species of reptiles, and 262 species of birds. Most of them won't hurt you and are exciting to watch for while you're out exploring. But a few of these species do pose a threat, and you should be prepared in case you cross paths with them.
But a few of these species do pose a threat, and you should be prepared in case you cross paths with them. Mountain lions and black bears are two such species. Learning how to properly store food while camping, how to react if you encounter an animal while on the trail, and other wildlife safety tips might just save your life.
Check the Weather Before You Head Out
There are plenty of ways to spend a rainy day at The Pines Resort or around Bass Lake. But knowing that its going to rain ahead of time can help you make plans ahead of time. Checking the weather before you head out for the day, and knowing what to do if the weather takes a turn for the worse, can help ensure that you're safe, no matter what activities you choose to fill your time with.
Learn Some Basic First Aid
You probably know that it's a good idea to always pack a first aid kit when you go hiking or camping. But do you know how to use what's inside your kit if an emergency does strike?
If plan on doing any serious hiking, backpacking, or camping, it's a good idea to learn some basic first aid before your trip. A quick internet search will get you started, but if you really want to be prepared, consider taking a first aid course to learn more.
Before you plan your next outdoor adventure to The Pines Resort at Bass Lake, it's a good idea to learn these outdoor safety tips! Ensuring your safety and the safety of anyone traveling with you will help ensure that you have a great trip and that you go home in one piece!