Maybe you enjoy relaxing in a lawn chair by the side of a tranquil mountain stream. Or perhaps you'd rather catch some sun while casting a line on a boat on Bass Lake. Now matter your preference or experience level, the Yosemite and Bass Lake area is packed full of awesome opportunities for fishing!
Fishing in Yosemite
There are several streams and lakes that are popular spots to fish in Yosemite.
Among the most popular are the Merced River and Frog Creek. Bait-fishing is not allowed in the park, but sport fishing with lures and fly fishing with barb-less hooks is permitted. In the park, you'll find a variety of fish, including brown trout, rainbow trout, California roach, pike minnow, and more!
But before you cast a line, be sure to read the rules and regulations to fish in Yosemite National Park. These include having a valid California Fishing License, not casting from docks or bridges, as well as regulations about what kinds of fish are considered catch-and-release only.

Fishing in Bass Lake
Bass Lake is one of the best places to fish in the entire region!
Here you'll find a variety of fish, including several that are rare in the area. During the warm summer months, when the water temperature remains between 75 and 78 degrees, salmon become abundant, and draw large salmon boats to the lake. Trout, Kokanee Salmon, Catfish, Crappie and Bluegill are stocked to the lake, making it a great spot for new fisherman looking to test their skills in an easier setting than they might find in Yosemite.
During the less busy months of the fall and spring, black bass are the more popular sport fish among local fishermen. The cold winter months make the lake a perfect environment for Rainbow Trout. These are stocked yearly by the Department of Fish and Game. Before the water warms up in the early summer, the popular Bass Lake Fishing Derby is held. This event helps to reduce the Rainbow Trout population before the waters become too warm for the species.
2017 Bass Lake Fishing Derby
The annual Bass Lake Fishing Derby returns on May 6 and 7 of this year!
Participants will put their skills to the test as they compete for a number of prizes. Three tagged fish will be worth $5,000, $10,000, and $25,000. An additional 100 trout will be worth $100 and 847 trout will be worth $20.
All participants must have a valid California Fishing License. Registration is $25 for adults and children over 16, and $15 for children 15 and under. Families with more than one child under the age of 16 pay $10 for each additional child. Registration is available online, or at the event until 9 a.m. on Saturday, May 6.
Come out and enjoy a day of fun, fishing, and healthy competition!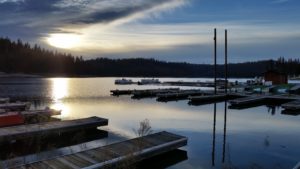 Make The Pines Resort Your Base camp for Your Next Fishing Adventure!
If you're looking to try your hand at fishing in Bass Lake or in Yosemite, The Pines Resort makes for the perfect base camp! Located on Bass Lake, the resort offers a variety of types of boat rentals.
After a long day spent casting a line in the hot sun, relax and unwind at The Pines Spa. Or enjoy a cool drink and a delicious meal at Ducey's on the Lake. Our experienced staff can help you find local supply shops or even the perfect spot to fish!