For many of the visitors who flock to Bass Lake each summer, and for the locals that call the area home, boating is a big part of their summer fun! Some come to fish from boats or from the shore. Others enjoy something a bit faster-paced, like tubing or jet skis. However you choose to spend your days at the lake, there's an activity that's perfect for all ages and interests! But before you jump onboard for some fun in the sun, it's important to learn that rules and regulations of watersports on Bass Lake.
Get Registered
If you are bringing your own boat to the lake, it's important to make sure that it's registered. Registration costs vary depending on the size of your boat. You can register locally through the Sheriff. Just make sure that you have the colored sticker affixed to your craft before you set off.
If you plan to leave your boat on the lake overnight, you'll also need to rent a slip.
If you're planning to rent a boat at Bass Lake, you won't need to worry about registration.

Navigating the Lake
Watching the lake from a distance, it may seem like the boats navigate the lake at random. But there's actually a pattern to the traffic, much like driving a car.
Boats move counter-clockwise around the lake, keeping towards the edges. If a driver decides to cross the lake, they should approach it as you would a left turn. Large orange buoys situated near the edges of the lake signal the no wake zone. When cruising in these areas, you should keep your speed under 5 miles per hour. Tubes are allowed, so long as they are not the kind designed to "float" above the water like a kite.
Finally, drivers must be 16 years or older to operate a personal watercraft.
Watch Your Noise Levels
Bass Lake is a great place to relax with friends and family. But while enjoying yourself on the lake, be conscious of other boaters. Keep music levels at a reasonable level. Other boaters may want to be able to hear their own music over yours!
Be Polite to Other Boaters
Besides the set rules in place on the lake, there are other guidelines that boaters should follow. Drivers should try to avoid driving too close to other boats. If you do have to pass a boat or other personal watercraft, slow your speed. If a boat is pulling a tube or water ski, stay a generous distance from them.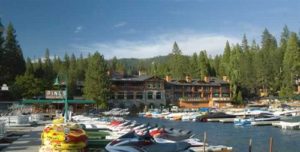 Plan Your Bass Lake Getaway
If you're ready to enjoy some summertime fun on the lake, plan your stay at Bass Lake today!
The Pines Resort at Bass Lake is the perfect spot for anyone looking to enjoy the lake. With slips available for rent for those bringing their own craft and rentals for those who aren't, everything you need is on site. Our experienced staff can help you learn the rules of the lake. At the end of a long day on the water, relax and enjoy a meal at Ducey's on the Lake, a massage at The Pines Spa, or just kick-back and enjoy the beauty of one of our Chalets!