Summer Season at Bass Lake and in the Yosemite Area is at it's peak! The weather is perfect, water in the lake is warm and comfortable (mid-Jul 82F) and there are a lot of people around. Many families consider Bass Lake their vacation destination for generations. They once came here with their parents and now they are coming back with their children and grandchildren. There are also a lot of International and state-wide visitors who wanted to mark Yosemite off their bucket lists.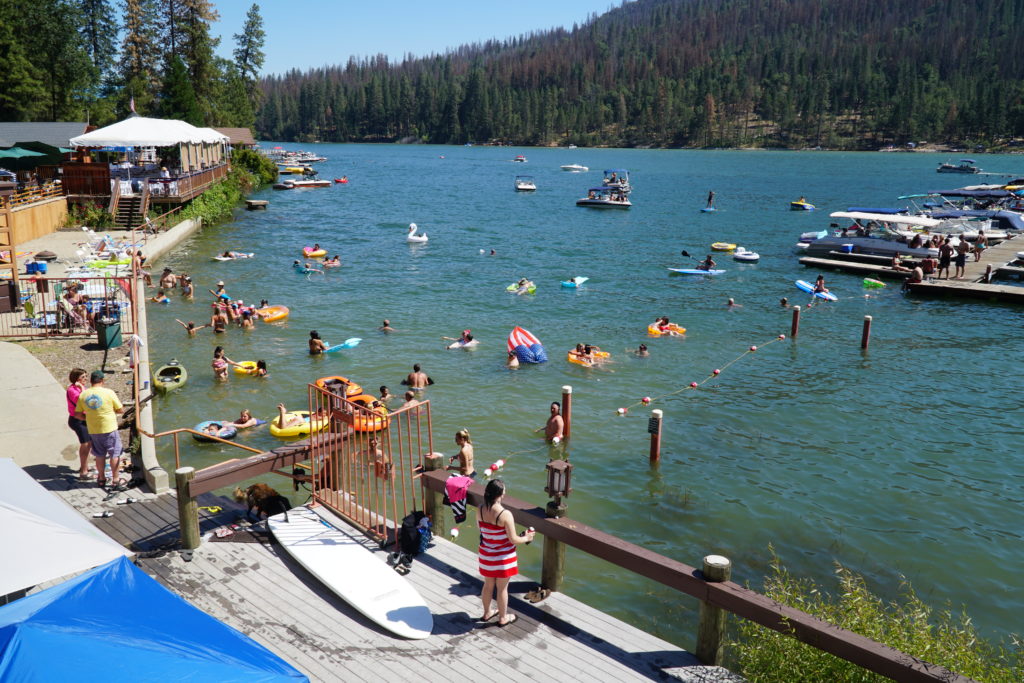 Multiple reports from the park rangers show that Yosemite National Park is seeing a record number of visitors this year. It is mainly due to a great precipitation in the Spring which has kept the waterfalls flowing even that late in the season.
While there are a lot of people who enjoy the hustle and bustle of Bass Lake and Yosemite in the Summertime, there are many wonderful reasons to come and visit in the Fall.
---
Fall Season in the Sierra National Forest is often overlooked as a time to visit the region. We gathered 4 main reasons why you should consider your vacation in the upcoming months and see what the area has to offer.
Perfect Weather

There is no better word to describe the weather in the fall season at Bass Lake, than simply "perfect". It is definitely cooler than in the Summer, but still warm enough (especially in September and early October) to explore the area and even enjoy watersports. In September and October a lot of guests take advantage of local hikes, tour Bass Lake on their bicycles, go fishing or just choose to relax on their patios with a glass of wine or cup of coffee and enjoy a beautiful autumn sunset over the Lake. Don't forget that most of the local businesses are still open, so that is also a great time to try ziplining, horseback riding, steamtrain rides, off-road trips, etc. Please keep in mind that most of the activities are weather permitting, so call ahead and plan accordingly.

Open Trails and Less Crowds

While many fall weekends, particularly in late September and early October, will still draw crowds, the number of visitors to Yosemite drastically decreases once summer ends, making fall a great time to visit the park. The water levels in the Yosemite's waterfalls will be low, but most trails and areas within the park remain open through October, and even into November, if the weather stays fair. Empty or near-empty trails are great for hiking, but they are also great for catching photos of the park's most iconic landmarks without worrying about other visitors getting in your shot. During October and November, many of the region's trees also begin to change, making for some great views. No matter what season you visit, it's a good idea to check for trail closings before you head into the park.

More affordable and more availability

Starting after the Labor Day Weekend, our rates at the Pines Resort are reverting to the off-peak season, which means you can enjoy a two-story cabin with a king size bed or 2 queen beds for only $149 – $209 or relax in the lakefront suite for $209 – $259. The rates will drop another $20-$40 starting on November 1st. We always encourage early booking, especially if you are planning on visiting on the weekends or want a specific room type, but we should have plenty availability in the Fall to accommodate you and your companion. Don't forget to sign up for our newsletter to stay up to date on any specials and to receive coupons.

Fall Events & Holidays

We can't think of the fall season at Bass Lake, without mentioning our wonderfull events and holiday celebrations. All the events hosted at the Pines Resort are open to the public. They appeal to families, but also to couples, kids and group of friends. While we are still working on our event calendar for this upcoming quarter, here are the events we were offering in the Fall 2016:

Wine & Beer Tasting events – those events are being held at Ducey's on the Lake and offer food pairings with a new wine or beer release. We partner with local breweries and wineries to offer the best experience to our guests.
Halloween Festival – free, family friendly and not-scary fall festival celebration where we allow the little ones to dress up in their costumes, enjoy seasonal crafts, pick pumpkins (fee), etc. Grown ups can explore our beer garden. Last year we offered free bouncy houses for kids and live entertainment.
Thanksgiving Dinner – Ducey's on the Lake will be again hosting our traditional Thanksgiving Buffet. This event became popular over the past two years and tends to sell out 2-3 weeks in advance
Christmas Tree Lighting & Parade of Lights – this must be one of our (and our guests) favorite events of the season.  Join us, when we officially transition into the holiday season at Bass Lake. The event will be hosted for the 26th year on a Saturday, following Thanksgiving. Visitors will enjoy parade of lights in the village, followed by the raffle, arrival and pictures with Santa Claus.
Pictures and Pancakes with Santa – early in December we often offer an opportnity for kids and their families to meet the white bearded man from the South Pole.
---
---