Bass Lake offers a range of experiences for visitors and locals of all ages, backgrounds, and interests. From hiking and climbing to watersports, shopping, and more, there's always something to do. There are also many options for places to stay during your trip. For outdoor enthusiasts, campgrounds are a popular choice.
If you're planning a trip, check out this list of just a few of the best campgrounds and recreational areas in and around the Bass Lake area.
Campgrounds
Bass Lake RV Resort
Nestled alongside Bass Lake, surrounded by towering oak and pine trees, is Bass Lake RV Resort. This campground offers sites for tents and RVs, and also has several rustic cabins available. There is a playground, swimming pool, and kid's club on site for the little ones, as well as access to Bass Lake for fishing and watersports.
Forks Campground
Located within the Sierra National Forest, Forks Campground is perched on a hill overlooking Bass Lake. Besides some spectacular views of the lake and the surrounding forest, guests will enjoy a simple campground that provides easy access to boat ramps, restaurants, and everything else you'll need during your trip. If you're looking to do some hiking during your trip, there are also several trailheads located in or near the campground.
Wishon Point Campground
If you plan to enjoy nature and don't mind not having access to a pool or other amenities, Wishon Point Campground is a great choice. Like Forks Campground, this simple campground is nestled in some truly beautiful scenery. But don't worry; if you change your mind and start looking for a change of pace, all of the fun and excitement of Bass Lake is just a short drive away!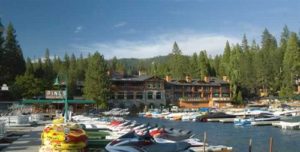 After you've found a campground, plan the rest of your trip!
There's no better way to enjoy all that the Bass Lake area has to offer than with a stay at The Pines Resort.  Choose one of our chalets, lakeside suites, or specialty cabins, and you'll be steps away from Bass Lake, and amenities such as water sports rentals, The Pines Spa, Ducey's on the Lake, a pool, hiking, and more! Whether you mix in a few nights of camping and a few at the resort or choose to relax in luxury at The Pines for your entire stay, it's a must for any trip.