July 28th, 2017– Exciting changes are underway at The Pines Resort at Bass Lake! Our popular Chalets are being extensively renovated. This is so that we can continue to provide our guests with the comfort and amenities that help make a stay at The Pines memorable for the whole family. From new kitchen floor plans to upgrades to help us reduce our impact on the environment.
The Chalet kitchens are receiving a complete facelift! The remodel will include all new tile or granite countertops on the kitchen counters and islands, new tile flooring, new cabinets, and all new appliances, including cook stoves, refrigerators, range hoods, and microwaves. The seating areas in the kitchens will also receive new stools, and all new light fixtures in the kitchens and faucets in the kitchens and bathrooms, will also be added.
For guests looking to enjoy a family movie night during their stay or for those simply looking to check the weather on their way out the door, each Chalet will also have two new, flat screen LCD TV's. After a long day of fun, guests will love relaxing on our brand new beds and bedding.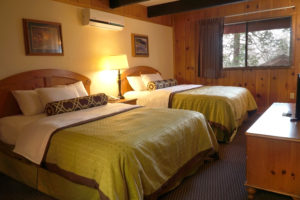 The Pines Resort's location in the mountains gives us gorgeous views and tranquil landscapes, but it can also make Wi-Fi reception a challenge. That's why our remodel also includes dedicated Wi-Fi access for each of our Chalet units separately. It will improve the strenght of the network and help with heavy traffic in the peak season.
We are always looking for ways to lessen our impact on the breathtaking landscape that draws visitors to Bass Lake and Yosemite. That's why we are also adding two new high efficiency heat and air conditioning units, and replacing all of the lights in our Chalets in with LED bulbs.
With several different kinds of Chalets, there is an option with the perfect size and amenities for every family and guest.
We offer 51 mountain cabins that each feature two queen beds, full kitchens, a private balcony, and plenty of space for larger families to relax. Our 12 Lakeview units offer the same amenities, but with a partial view of the lake. We also have 30 chalets that offer a king bed and a sleeper sofa, full kitchen, and private balconies.
For guests who do plan to eat at Ducey's on the Lake or enjoy other local fare, we offer three units without kitchens, one with two queen beds and a sleeper sofa that is perfect for larger families, and one with two king beds and two bathrooms. Each of our chalets are part of a duplex unit, which is a great feature for larger groups traveling together, seeking privacy but having an option to use the connecting door for family time.
The remodel project is 80 percent complete, which means that many of Chalets are already updated and ready for guests! Call today to book your stay for this summer!